The tide may be changing for these 2 stocks. Here's why traders say they could be about to head higher.
Stocks have been a wild ride lately.
After hitting a new all-time high on May 7, the Dow Jones has had as many down days as up and is currently down 1% from its peak. The S&P 500 has seen just as much choppiness, and is also down nearly 1% from its May 7 high.
But for one of the market's most volatile stocks, the tides may be changing.
Piper Sandler's Craig Johnson said he's been watching Western Digital (NASDAQ: WDC) since it reported earnings late last month, posting profit per share of $1.02 on revenue of $4.1 billion, beating top-end estimates for profit per share of $0.75 on revenue of $4.05 billion.
After those results, Johnson said "it seems like [the] stars and moon are aligning here… with both the fundamentals and the technicals on Western Digital."
Looking at the chart, the Piper Sandler chief market technician noted "you've made this clear double bottom, and a close above $76 would start another leg higher."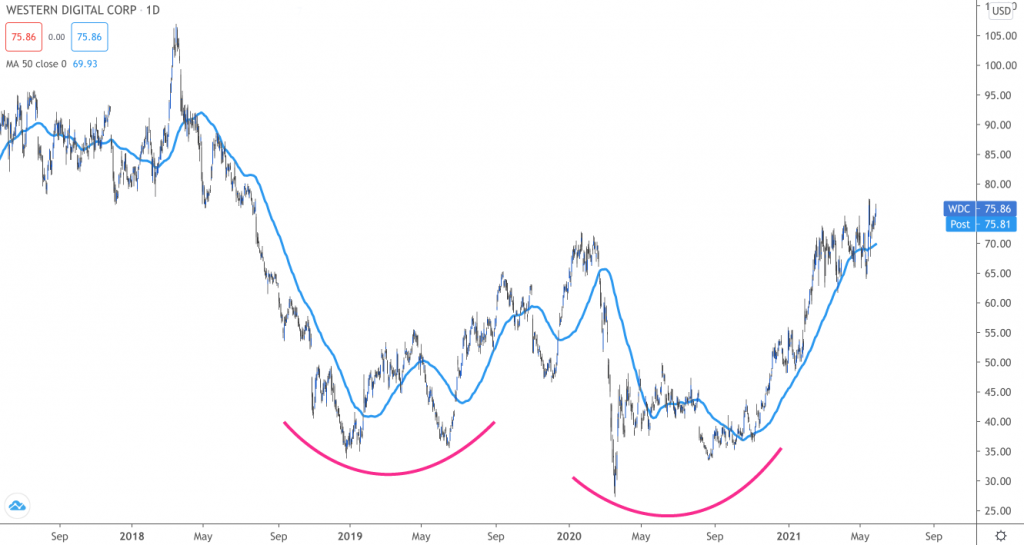 Western Digital shares closed at $75.86, just under the $76 level Johnson is watching for.
"You could have upwards of 50% upside based upon the size of the setup should you see that measured objective up to about $110," Johnson added.
The Piper Sandler technician isn't the only one bullish on Western Digital.
Susquehanna analyst Mehdi Hosseini recently reiterated his positive rating on the stock, and boosted his price target to $124 – 63% higher than the price as of this writing. Hosseini said in a note that "consensus estimates do not truly reflect Western Digital's earnings power considering improving NAND fundamentals."
But Western Digital isn't the only volatile name Simpler Trading's director of options, Danielle Shay, is watching.
Shay's pick is Gap (NYSE: GPS), which reported that its first quarter sales topped pre-pandemic levels after the bell on Thursday.
"When you're looking at high-beta names, especially ones with high implied volatility going into the report because of all of the interest surrounding it, in the options market, it really gives you a good opportunity to come in and sell some at-the-money premium that's juiced up," Shay said.
Shay noted that the options market was pricing in a roughly $3.50 to $4 per share post-earnings jump for Gap shares.
Besides a boost from the earnings results, Gap shares could also see benefit from the company's new multi-year partnership with Walmart (NYSE: WMT) for its new Gap Home line.
The new home goods line will launch on Walmart's website on June 24, with prices ranging from $15 for throw pillows to $65 for comforters.
"We're committed to building this business and we're aiming high for it," said Mark Breitbard, chief executive officer of the Gap brand, adding that the company is focused on "quality deals" instead of simply expanding into more categories.