Traders say there are 2 stocks that look poised to profit this summer as consumer activity soars.
Memorial Day weekend kicked off the summer season last week.
This summer marks the world reopening from the coronavirus pandemic. Consumer activity is surging and travel is rebounding as we all venture out from quarantine.
And with this summer looking to be a busy one, traders say there are two stocks that are poised to reap the rewards.
Laffer Tengler Investments' Nancy Tengler says there's one "one-stop shop" to bet on this summer where consumers can get everything they need before they hit the beach or backyard barbecue.
"Where else can you get beach towels, sunscreen in bulk, and meat to grill and cases of booze other than Costco (NASDAQ: COST)?" Tengler said.
Costco shares have underperformed this year, with the stock up just under 2% year-to-date compared to the S&P 500's gain of 13%.
The company delivered an earnings beat when it reported last week, posting earnings per share of $2.75 on revenue of $45.28 billion – a gain of 21.5%. Analysts had expected earnings per share of $2.38 on revenue of $44.71 billion.
But investors were already being on a beat from Costco and were hoping for more of a blowout quarter. Still, a slew of analysts upgraded the stock following the earnings report, with Deutsche Bank analyst Paul Trussell calling the stock a "port in the storm" while praising its "superb top-line performance."
"Costco's consistent store traffic, coupled with elevated ticket levels, reinforce the value Costco offers its members and our view that the membership model is still the most attractive business model in hardline retail today," said Raymond James analyst Bobby Griffin, who has an Outperform rating on the stock and a price target of $415.
"We like the earnings report," Tengler said. "The stock has sold off because there are concerns over margins but net sales for the quarter were up 22%, e-commerce was up 41% versus Walmart's (NYSE: WMT) 37% and versus 66% a year ago. Average transaction size is going up, membership sales are excellent."
One thing that could hamper Costco is rising inflation, and Tengler warns investors should be cautious.
"The company talked about inflation in just about every aspect of their businesses which compressed margins, so I wouldn't be in a big hurry but I would dip my toe in here," Tengler said. "It's attractive on our valuation board and it will be a beneficiary of consumers getting out and spending money as they have been but really for the kinds of things we enjoy in the summer like the beach and barbecues."
Piper Sandler's Craig Johnson has another stock in mind: Molson Coors (NYSE: TAP).
"This is a stock that's reversing a multi-year downtrend going back to 2016 and it looks like a big bottom is getting set," Johnson, the firm's chief market technician, said. "And from our perspective, a close above $60 technically suggests another leg higher is starting to unfold."
Molson Coors shares have been stuck in a downtrend since late 2016, and looking at the chart, the stock has formed a cup-and-handle – a bullish pattern that suggests the stock is headed for a breakout higher.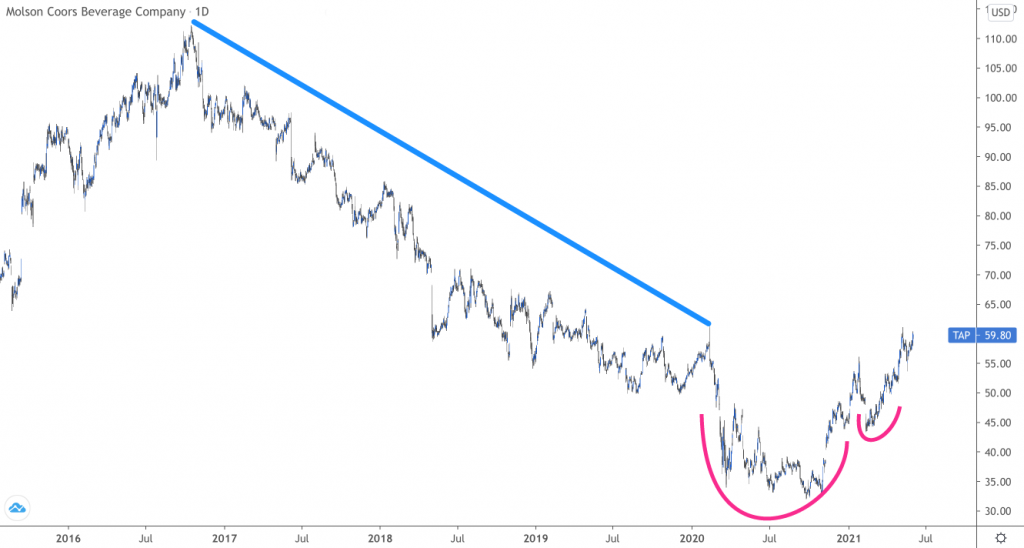 The stock closed at $59.80 on Thursday, less than 1% below Johnson's target.
"Fundamentally, think about this, people haven't been out to the ballparks, they haven't been out to games, they haven't been anywhere, so I suspect they're probably going to indulge a bit when they go out to the ballparks and have a couple of beers and i suspect that will [mean] very good on-premise sales numbers coming up for Coors," Johnson added.
One other thing that should boost Molson Coors is its investment in hard seltzer, one of the fastest growing segments in the beverage industry.
Alcoholic hard seltzers became a sensation before the pandemic, generating around $500 million in sales in 2018. But last year, when people were stuck at home and couldn't go to their favorite bars and restaurants, consumers snapped up cases of the beverage at grocery and liquor stores, with revenues topping $4 billion in 2020.
Molson Coors teamed up with Coca-Cola (NYSE: KO) to release Topo Chico Hard Seltzer, which hit shelves in 16 markets across the country this spring. The beer maker also announced late last month that it is investing $100 million in its Canadian hard seltzer portfolio.
"The number one priority for our Canadian business is ramping up our hard seltzers to position ourselves as a top-share performer," said Brian Erhardt, chief supply officer for Molson Coors. "These investments will help us control our own destiny on manufacturing, balancing production between our own facilities and trusted third parties."
"We view ourselves as the challenger brand," said Michelle St. Jacques, Molson Coors' chief marketing officer. "We feel like we're making great progress in seltzer by not trying to bring me-too products, but rather products and brands that have a clear difference."