In market terms, one of the natural side effects of the COVID-19 health crisis has been an elevated focus on stocks in the Healthcare sector. That covers a wide range of industries, from health insurance to biopharmaceutical and healthcare equipment and supplies. All of these companies have spent the last eighteen months not only coping with increased demand and emphasis on COVID-related diagnostics, treatments, and facilities, but also working to understand how to shift their individual and collective focus from non-COVID-related operations.
The shift was mandated by a pandemic that forced hospitals and health care providers to delay doctor visits, elective procedures and anything that didn't involve the coronavirus in order to preserve capacity for nearly overpowering COVID case numbers. For some companies like Abbott Laboratories (ABT), that also meant overwhelming demand for COVID tests that has continued into this year even as infections, hospitalizations and case numbers continue to decline. That demand, in fact was so massive that while it forced the company to shift its focus away from its high-growth medical device and non-COVID diagnostic segments, it also benefitted from significantly elevated revenues from COVID testing sales. That is a tailwind that is expected to continue into the near term, even as the company has lowered its own forecasts as operations begin to shift back to its non-COVID, high growth segments.
The stock enjoyed a big rally from its COVID-driven, bear market 2020 low at around $60, more than doubling in price to its February 2021 top above $128 per share. From that peak, however, the stock has moved into an intermediate-term downward trend that accelerated after the last earnings report when management lowered its forecasts for 2021 and 2022. As of this writing, the stock appears to have found strong support at around $105, about -16% below its 52-week high point. Speaking from the perspective of a value-driven investor, looking at a stock that has dropped pretty significantly from a peak, in a sector that has weathered unprecedented challenges over the last year and a half and should be in position to return to normal growth operations actually starts to beg the question: is ABT starting to offer a useful long-term opportunity with attractive value built in?
Fundamental and Value Profile
Abbott Laboratories is engaged in the discovery, development, manufacture and sale of a range of healthcare products. The Company operates through four segments: Established Pharmaceutical Products, Diagnostic Products, Nutritional Products and Vascular Products. Its Established Pharmaceutical Products include a range of branded generic pharmaceuticals manufactured around the world and marketed and sold outside the United States. Its Diagnostic Products include a range of diagnostic systems and tests. Its Nutritional Products include a range of pediatric and adult nutritional products. Its Company's Vascular Products include a range of coronary, endovascular, vessel closure and structural heart devices for the treatment of vascular disease. The Company, through St. Jude Medical, Inc., also offers products, such as rhythm management products, electrophysiology products, heart failure related products, vascular products, structural heart products and neuromodulation products. ABT's current market cap is $191.3 billion.
Earnings and Sales Growth: Over the last twelve months, earnings grew a little more than 103% while revenues were more than 35% higher. In the last last quarter, earnings declined almost -9%, with sales slipping -2.29% lower. The company's margin profile is also a sign of strength. In the last twelve months, Net Income was 15.33% of Revenues, while in the last quarter, it increased to 17.15%.
Free Cash Flow: ABT's free cash flow is healthy and growing, at $7.6 billion over the last twelve months. This number has increased significantly from about $5.7 billion in the last quarter and $4.5 billion a year ago, and translates to a modest Free Cash Flow Yield of 3.97%.
Debt to Equity: ABT has a debt/equity ratio of .52, which is a low number that implies the company takes a conservative approach to the use of leverage. The company's liquidity is healthy, with $8.3 billion in cash and liquid assets versus $17.4 billion in long-term debt.
Dividend: ABT pays an annual dividend of $1.80 per share, which translates to a yield of about 1.67% at the stock's current price. The dividend was about $1.28 in 2019 and $1.44 a year ago, which is impressive; an increasing dividend is a strong indication of management's forecast and confidence in its future.
Value Analysis: there are a lot of ways to measure how much a stock should be worth; but I like to work with a combination of Price/Book and Price/Cash Flow analysis. Together, these measurements provide a long-term, fair value target around $98 per share. That means that even with the stock's recent decline, it remains overvalued right now, with about -9% additional downside from its current price to its fair value target. ABT's useful discount price is around $78 per share.
Technical Profile
Here's a look at the stock's latest technical chart.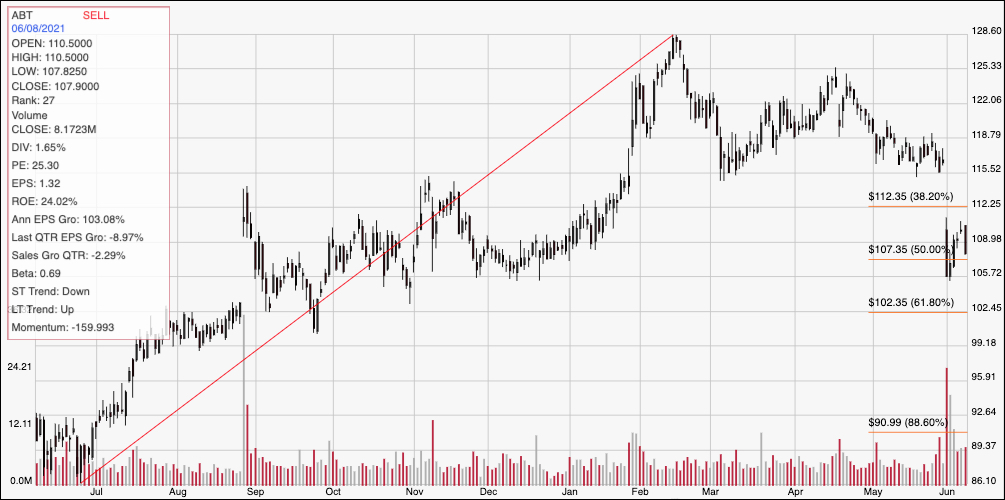 Current Price Action/Trends and Pivots: The diagonal red line traces the stock's upward trend from July of last year to its February peak above $128. It also provides the baseline for the Fibonacci retracement lines on the right side of the chart. The stock's decline from that high accelerated in late May, with the stock falling below $115 to find current support at around $106 and inline with the 50% retracement line. The stock rallied briefly in the last week, but is now dropping back towards that support level. A drop below support has downside to about $102 where the 61.8% retracement line waits. Immediate resistance is at the 38.2% retracement line, at $112. A break above that point could signal a significant reversal in the stock's current downward trend, and offers upside to between $115 and $119 depending on the pace of bullish momentum at that point. A bounce off of current support at $106 also could offer between $5 and $6 of immediate upside to immediate resistance.
Near-term Keys: There is a lot to like right now about ABT's fundamentals; the company's ability to work quickly to provide useful COVID-testing services has helped the medical community during the pandemic and been a net positive for its business. A return to non-COVID related activities is also something that bodes well for its operational model looking forward; even so, the stock remains overvalued, which means that it just doesn't offer a compelling, value-oriented reason to buy the stock with a long-term forecast right now. There could be some interesting opportunities to place short-term trades, depending on what shifts in momentum occur for the stock in the days, weeks, and months ahead. You could use a push above $112 as an interesting signal of a pending trend reversal to think about buying the stock or working with call options, using $$115 to $119 as potential bullish target points. A pivot off of current support at $106 could also offer an interesting bullish swing-trading opportunity, with a target price at immediate resistance at $112. A drop below $106 would act as a signal to consider shorting the stock or working with put options, with an eye on $102 as an exit point on a bearish trade.
By the way, if you liked this article, you'll LOVE this Meaty free training I just published on the top 3 questions and challenges every investor faces AND how to overcome them. It's titled "How To Retire In 18 Months With $2.4 Million" and you can grab it for free here.
Access Our Premium Services