The Reddit fueled retail trading crowd may be jumping into names like Clover Health and Clean Energy Fuels, but traders say there are 2 stocks that are better bets right now.
Things are looking a whole like lot January again lately.
The meme stock frenzy is back, with retail traders inspired by Reddit's WallStreetBets forum piling into AMC Entertainment (NYSE: AMC), Clover Health (NASDAQ: CLOV), ContextLogic (NASDAQ: WISH), Clean Energy Fuels (NASDAQ: CLNE), and Geo Group (NYSE: GEO) this week.
"The meme stock craze is a liquidity phenomenon," Miller Tabak's Matt Maley said in a note from Wednesday. "This is far from just something that the Reddit traders are playing in. There are a lot of momentum-based hedge funds (with algos) that have a lot of money pushing these things around."
But while the Reddit crowd jumps in on speculative bets, traders say there are better stocks to buy now.
Simpler Trading's Danielle Shay says chipmaker Nvidia (NASDAQ: NVDA) looks interesting now.
"It is at the all-time highs and normally I would never come here and say, 'Hey guys, look at Nvidia, it's at all-time highs, it's a great time to buy it,'" Shay, the firm's director of options, said. "But the reason why I like this and I put it in that momentum retail-trader category is because of the stock split coming up. Last year, what we saw with Apple (NASDAQ: AAPL) and Tesla (NASDAQ: TSLA) both, when their stock splits were announced, we had a massive rally that was largely due to the retail crowd."
Nvidia's board approved a 4-for-1 stock split last month that's set to take effect on July 20 and it could see a bounce in the days following the split if it's anything like Apple, which saw a 7% jump in the days after its stock split last August.
Shay added that the chipmaker is "a solid company, great fundamentals. Technicals, it's at the highs, but I'm looking at this to go potentially up to $750, maybe even $800, because if you look at it right now, it has this massive momentum because of the stock split. I'm trading this in the options market with a low-risk, high-reward butterfly targeting that $750 price point in the next two weeks."
A move to $750 implies a gain of 8%, while a jump to $800 would be a 15% gain.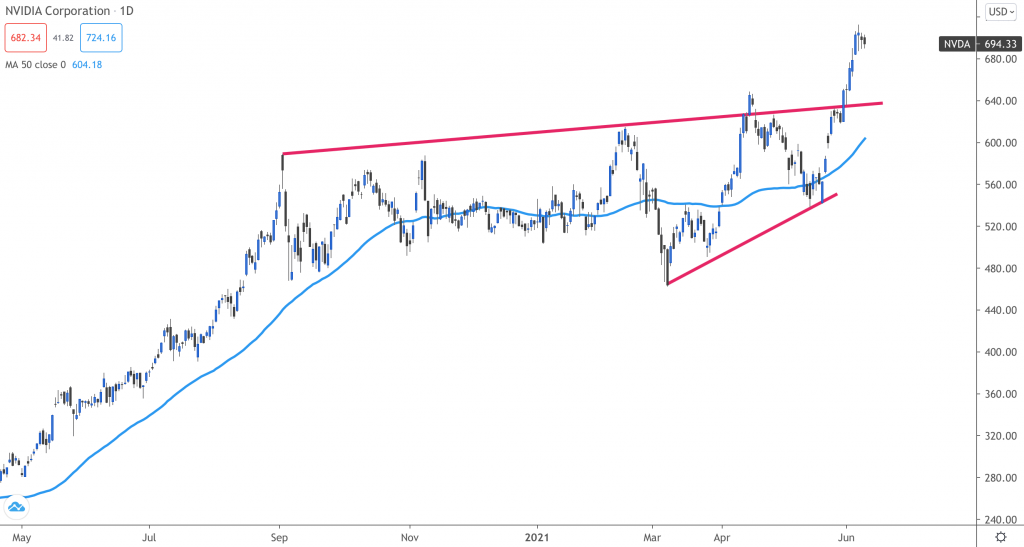 Piper Sandler's Craig Johnson has his eye on Plug Power (NASDAQ: PLUG).
Plug Power shares are 57% off their all-time high set back at the end of January.
Still, "this is a stock that, coming off the March [2020] lows, has risen almost 3,000%," Johnson said. "It's corrected … off the highs we had seen just a couple of months ago… and now technically, we've just reversed the downtrend… and moved above our 50- and 200-day moving averages."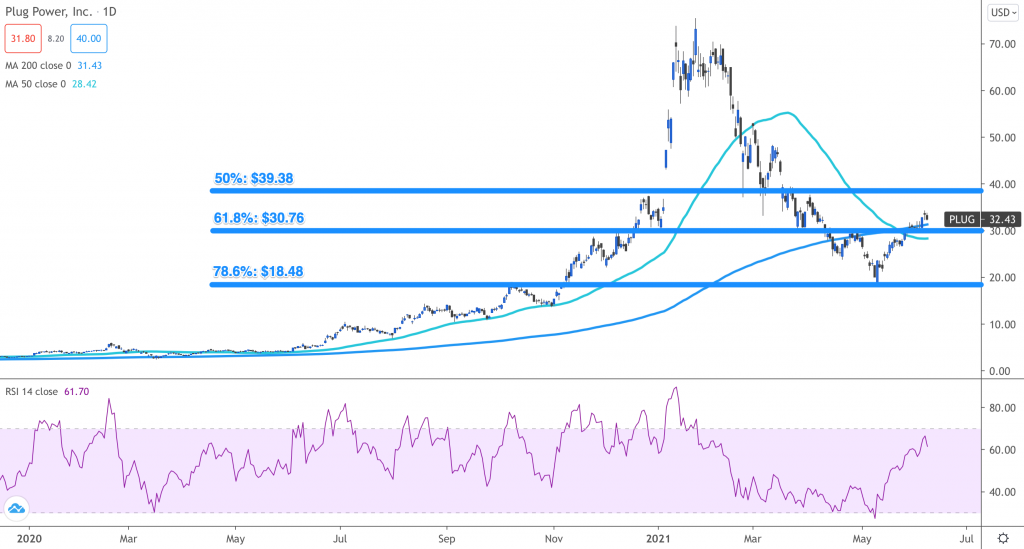 Plug Power's correction saw it fall to the 78.6% Fibonacci retracement, marking a deep pullback. Since hitting bottom, the stock has gained nearly 75% and looks poised to continue to head higher.
Johnson says the stock is poised for 125% upside, and only around 29% downside if it heads back towards its support level.