Initial public offerings are already having a record year. Traders say, of the biggest new names on the market, 2 stocks look like the best buys right now. Here's why.
It's only June and it has already been a record year for market debuts.
Between a surge in SPAC mergers, low interest rates, continued stimulus, and sky-high corporate valuations, IPOs and direct listings have surged this year. Initial public offerings have already raked in more than $171 billion in just the first six months of the year. In all of 2020—which was another record year—IPOs totaled $168 billion.
Big names like Bumble (NASDAQ: BMBL), Coinbase (NASDAQ: COIN), Coupang (NYSE: CPNG), Honest Co. (NASDAQ: HNST), Squarespace (NYSE: SQSP), and ThredUp (NASDAQ: TDUP) are among the companies to have gone public so far.
And the IPO gold rush looks set to scale to new highs in the second half of the year as Chinese ride-sharing giant Didi Chuxing Technology, online broker Robinhood Market, and EV maker Rivian Automotive all expected to make their debuts in the coming months.
"If the markets hang in anywhere near where they are right now, we are going to be incredibly busy this summer, and into the fall with IPOs," Eddie Molloy, co-head of equity capital markets for the Americas at Morgan Stanley, said to Reuters. "Trees don't grow to the sky forever, so you're not going to have a record volumes every year. But assuming stability, we'd also expect a busy 2022."
Newton Advisors' Mark Newton says this year's race to market is reminiscent to the time around the dotcom bubble.
"It's really representative of a year typical to 1999," Newton said this week. "In the whole '90s, we saw about 5,100 IPOs. In the last two decades we've seen about 2,100, but that's really started to accelerate in recent years."
Newton added that just like in the late 90s, the sheer number of IPOs and the way in which large-cap IPOs have reduced appetite for smaller public debuts is a concerning sign.
"It represents a very frothy-type environment right now to think that we can bring forth all these IPOs when inflation is still a real problem with economic growth and we've seen over a 100% market rebound since last March," the firm's president said.
Still, as concerning as the froth may be, Newton says there's one recent listing that's worth considering now.
"I'd look at Coinbase, which is a stock that I think will have opportunity but still needs to go a little bit lower before it's truly technically appealing to me," Newton said, pointing to a 50% drop from its post-IPO high as a technical indicator that the stock may have hit bottom.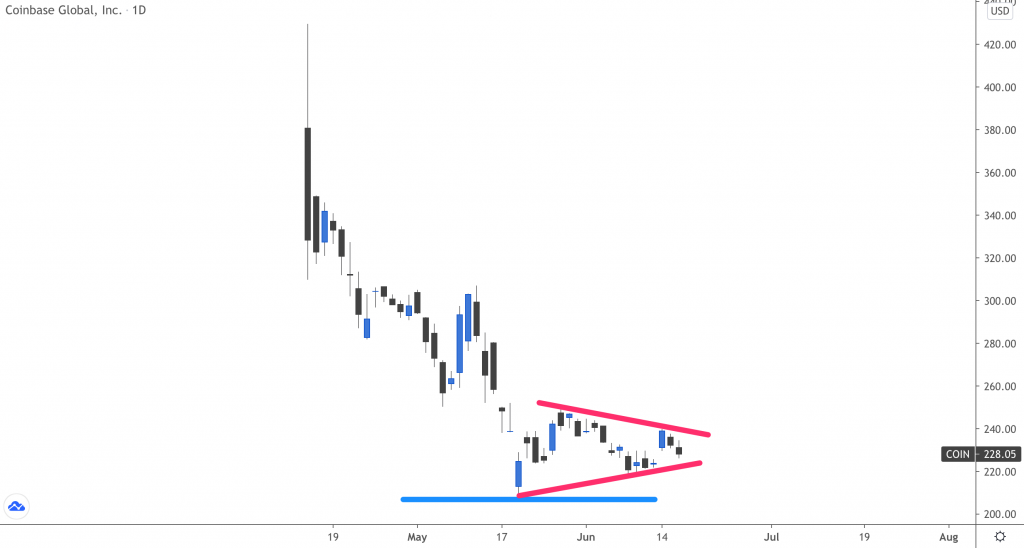 Newton isn't the only one on Wall Street that likes Coinbase now. This week, Canaccord analyst Joseph Vafi initiated the stock with a Buy rating and a price target of $285 – 25% higher than the price as of this writing.
"While the short term is less clear, the long-term investment considerations relative to COIN are attractive – as we believe in the future of cryptocurrencies, emergence of blockchain clouds/decentralized finance and entire ecosystems that likely emerge around these new markets," Vafi said in a note. "We are also positive about COIN's ability to grow its user base at impressive rates and what this means for monetization beyond crypto."
"We view COIN as a kind of 'super on-ramp' to everything crypto, and that holds true for consumers, institutions and enterprises," Vafi added. "Today that on-ramp is mostly comprised of trading revenue, but the future here could unfold rather fast and include support of new protocols, exploiting the nascent hyper growth in DeFi (decentralized finance), and even owning cloud-centric blockchain solutions. But that is the future."
New Street Advisors' Delano Saporu says his pick is Squarespace.
"There's a lot to be seen about what management does over the next few quarters, but if you're following that trend of e-commerce, they have sticky subscription revenue, and that's going to continue to grow when you're having more medium-sized and small-sized businesses and owners and entrepreneurs coming to the market and coming to the forefront. That's a play with a company that I like and watch, and hopefully they can grow into their valuation."
Squarespace made its debut just last month with a direct listing. While the website-hosting service had a relatively muted debut, the stock is up nearly 21% since going public on May 21.