With the Nasdaq near all-time highs, one analyst says biotechs will lead the index on its next leg higher. And stocks like these 5 could lead the way.
The Nasdaq closed less than 0.1% below its all-time high set on Monday today.
With one record and one near record in less than a week, one analyst says there's a corner of the health care sector that could propel the Nasdaq on its next leg higher.
"The Nasdaq Composite broadly is breaking higher, and the key reason why is that it's no just tech anymore," said Oppenheimer's Ari Wald. "You have biotechnology also lifting its head higher and participating."
And its those biotech stocks that are pushing the index higher. Since the beginning of June, the IBB Nasdaq Biotechnology iShares ETF has risen 5.4%, outpacing the broader index's 3% gain since the start of the month.
"Talking about the strength in the Nasdaq Biotech ETF… it really started with the breakout through five-year resistance last year," Wald, Oppenheimer's head of technical analysis, said.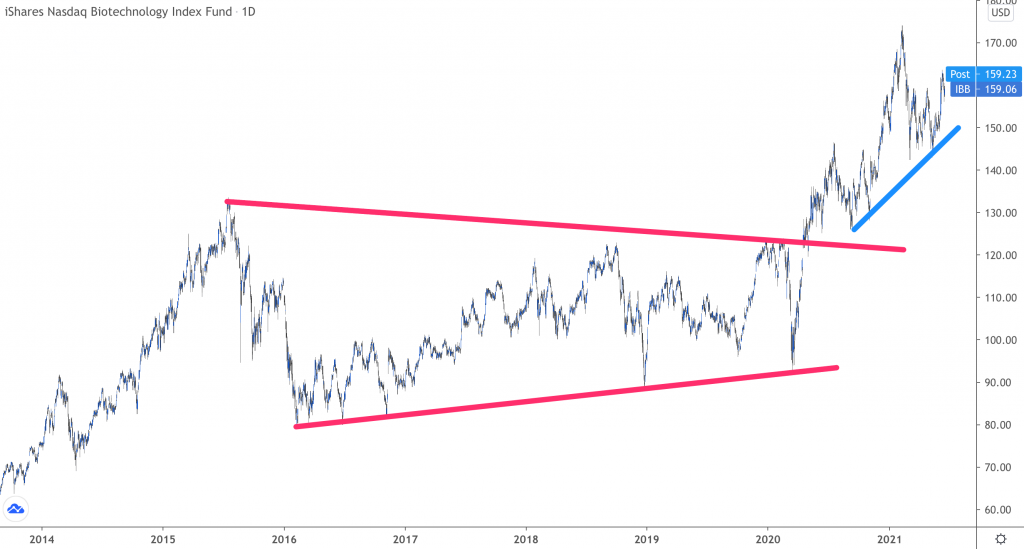 What's more, the rally since March 2020 saw a consolidation last summer that looks similar to how the ETF has traded in the last few months. Last summer, that consolidation was concluded with a breakout higher, and that bodes well for more upside in the months ahead.
The IBB Biotech ETF holds names like Moderna (NASDAQ: MRNA), Biogen (NASDAQ: BIIB), which have surged 28% and 36%, respectively, over the last month.
Laffer Tengler Investments' Nancy Tengler recommends investors looking to play biotechs should be selective now.
"We're playing the space with individual holdings," Tengler, the firm's chief investment officer, said. "Our two largest are J&J (NYSE: JNJ), which by the way bought Actelion which is one of the largest biotech companies, and AbbVie (NYSE: ABBV), which is alternately characterized as pharma and biotech."
For investors looking for a more under-the-radar pick, T. Rowe Price Health Sciences Fund stock picker Ziad Bakri said this week that Argenx (NASDAQ: ARGX) looks ripe for the picking now.
Bakri argued that Argenx looks like a prime acquisition target now, and when a buyer comes, the price will be steep.
Argenx's big get is a drug called efgartigimod, and anti-FcRn antibody, which the company is testing in six different diseases. The FDA is currently reviewing Argenx's application for approval for the drug as a treatment for generalized myasthenia gravis, a disease that affects multiple muscle groups throughout the body. The decision is expected by mid-December.
"I actually think that could be a five billion-plus drug on its own," Bakri said of efgartigimod, adding that any potential acquirer of Argenx would "pay a lot" given the potential. In return, Bakri says "you could have something that could carry you for a long time. There aren't many things that you could dream really blue sky numbers like this."
Bakri added that, "There are dozens of diseases [efgartigimod] can go after. It could be one of the biggest specialty drugs, given the diseases it could solve."
Wedbush analyst David Nierengarten agrees that Argenx looks like a prime acquisition target now, and says the stock is poised for upside with efgartigimod alone.
"We see significant upside from these levels from efgartigimod's potential," Nierengarten said in a recent note. "With an unencumbered first-in-class and best-in-class (in our view) FcRn inhibitor, we believe large pharma companies are natural acquirers for a potential multibillion franchise."