An RBC analyst issued an Outperform rating for one under-the-radar restaurant chain this week, but traders say there are 2 better restaurant stock picks now.
Jack in the Box (NASDAQ: JACK) shares got a boost today after RBC Capital Markets analyst Christopher Carril initiated coverage of the stock with an Outperform rating.
Carril argued that the under-the-radar fast food chain is undervalued given its expansion potential in the U.S.
So far this year, Jack in the Box has been a surprise winner, gaining more than 30% so far this year – outpacing the S&P 500's 14% return.
Despite this outperformance, traders say there are two other restaurant chains that are better bets now.
TradingAnalysis.com's Todd Gordon argued that with the pandemic winding down, diners will prefer higher-end fare.
"I would like to look at Ruth's Chris (NASDAQ: RUTH)," Gordon said. "This is a bull market stock. It's got locations focused in metro areas … and these higher-rent sit-down places like Ruth's Chris or Capital Grille, they have smaller tables, fewer customers, but they have bigger checks."
Ruth's Chris shares are up 28% so far his year but have struggled over the past month, falling nearly 7%.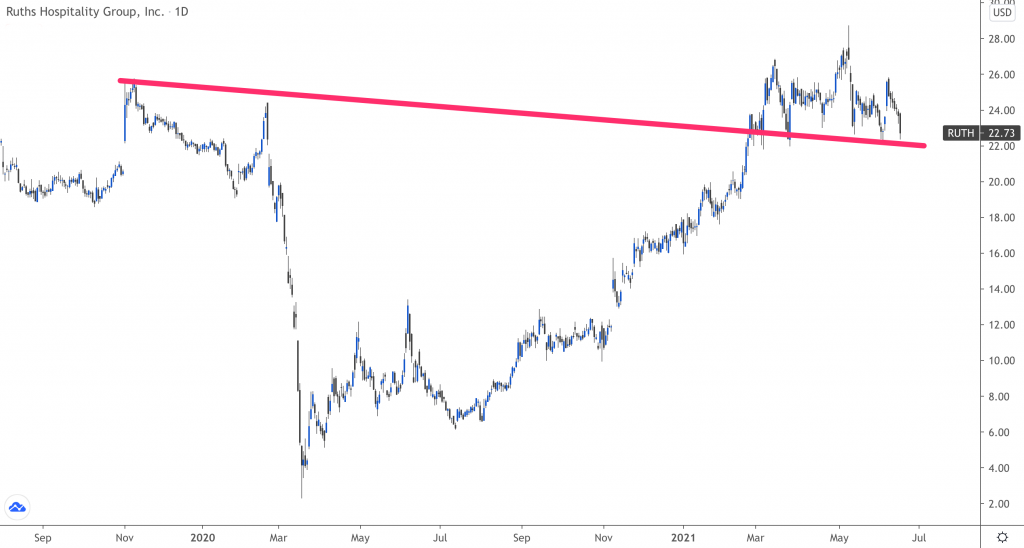 Last month, Ruth's reported earnings per share of $0.26 on revenue of $87.28 million, compared to estimates for earnings per share of $0.09 o $0.17 on revenue of $86.72 million.
"Our impressive first quarter results reflect not only accelerating sales trends, but also strong margins as our operators continued to execute the efficiency and capacity utilization initiatives that we implemented in 2020," President and CEO Cheryl Henry said in the earnings release. "With dining rooms now open in nearly all of our restaurants and our improve financial position, we are focusing our efforts on growing sales and cash flow, building upon the digital foundation we've developed during the last year, and investing in new unit growth."
"The stock is only 22 times forward earnings," Gordon added. "We've pulled back to the lower $20s, which, ironically, was the breakdown in the COVID era, so I kind of like to use that as support. I'm looking to add that to my portfolio."
Gina Sanchez, CEO of Chantico Global and chief market strategist at Lido Advisors, has another chain in mind now.
"We went with Starbucks (NASDAQ: SBUX)," Sanchez said. "We actually bought Starbucks into our recovery portfolio at Lido Advisors. They got really pummeled during the pandemic, although they did actually spend quite a bit of money to go digital and to make their products available in an easy-to-order way."
Starbucks shares dropped nearly 47% between the end of January 2020 and its bottom in March of that year. Since that bottom, the stock has risen nearly 123%. However, the rally in Starbucks shares has stalled since April, and the stock is down 6% since its April high giving investors a buying opportunity.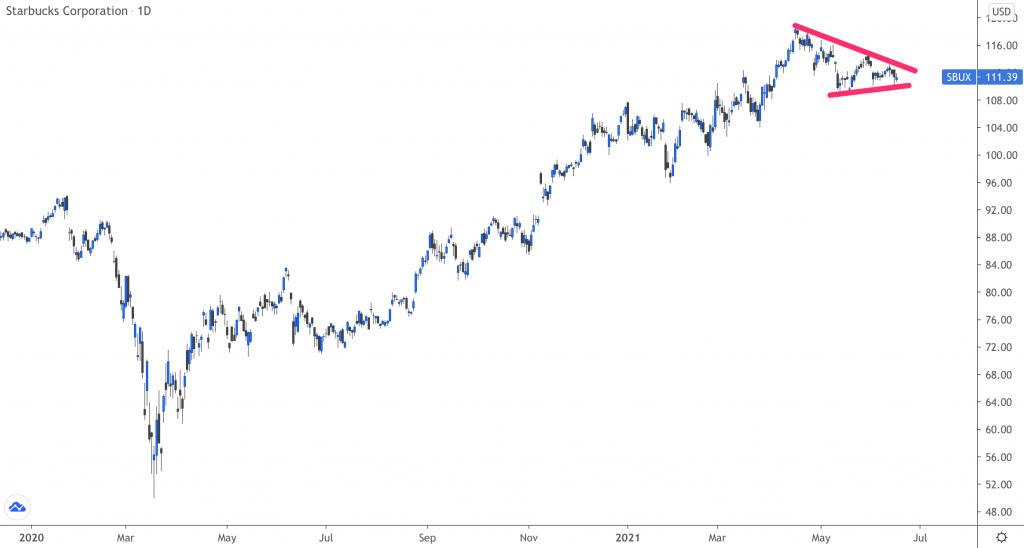 "They're really set to recover along with the rest of the economy," Sanchez added. "The lines are already starting to form at Starbucks as people slowly return to normal life, some going back into the office, and I think all of that benefits Starbucks."