Megacap tech stocks delivered blockbuster earnings this week, but there are 2 names in the group that traders say are the top picks right now.
Big tech posted big earnings this week.
On Tuesday, Apple (NASDAQ: AAPL), Microsoft (NASDAQ: MSFT), and Google-parent Alphabet (NASDAQ: GOOGL) all delivered better-than-expected results.
Apple posted earnings per share of $1.30 on revenue of $81.41 billion compared to estimates for earnings per share of $1.01 on revenue of $73.3 billion. Microsoft reported earnings per share of $2.17 on revenue of $46.15 billion, while analysts had expected earnings per share of $1.92 on revenue of $44.24 billion. And Alphabet said it earned $27.26 per share on revenue of $61.88 billion—fueled in part by advertising revenue growth of 69% year-over-year—versus expectations for earnings per share of $19.34 on revenue of $56.16 billion.
Facebook (NASDAQ: FB) posted results on Wednesday, reporting earnings per share of $3.61 on revenue of $29.08 billion. Analysts had expected earnings per share of $3.03 on revenue of $27.89 billion.
Amazon (NASDAQ: AMZN) then reported after the bell on Thursday. The e-commerce giant posted earnings of $15.12 per share—Wall Street estimated earnings per share of $12.30—on revenue of $113.08 billion marking Amazon's third straight $100 billion+ quarter.
While the FAAMG stocks all posted stellar results for the last quarter, traders say there are two stocks in the group that are better buys right now.
Blue Line Capital founder and President Bill Baruch said Microsoft should be "a staple within your portfolio, and you need to have it."
"At the end of the day, it's a stock that continues to have a different story that powers it to a new level," Baruch added.
Following Microsoft's earnings beat, Citi analyst Tyler Radke reiterated his Buy rating on the stock and lifted his price target to a Street-high $411 – 43% higher than the price as of this writing.
"Into a high bar, Microsoft delivered a strong performance in Q4, with 4% revenue upside and even stronger profitability," Radke said in a note, adding that the fiscal first quarter outlook implies Microsoft's Azure is accelerating, which he sees as "the biggest positive takeaway" from the last quarter.
Morgan Stanley analyst Keith Weiss agreed that Microsoft shares have more room to run.
"Solid positioning for core secular growth trends, strong execution against those opportunities and a growing base of recurring revenues powered a significant Q4 beat," Weiss said, adding that the company's latest results "bolster our conviction in the durability of high-teens EPS growth at Microsoft," and that the stock offers "a rare secular growth story in software with room for multiple expansion."
Looking at Microsoft's chart, Baruch noted that "the technical landscape within this stock has been tremendous."
"The pullbacks have hit support perfectly. The breakouts have been textbook breakouts," Baruch said, pointing out the stock's recent breakout from a wedge pattern.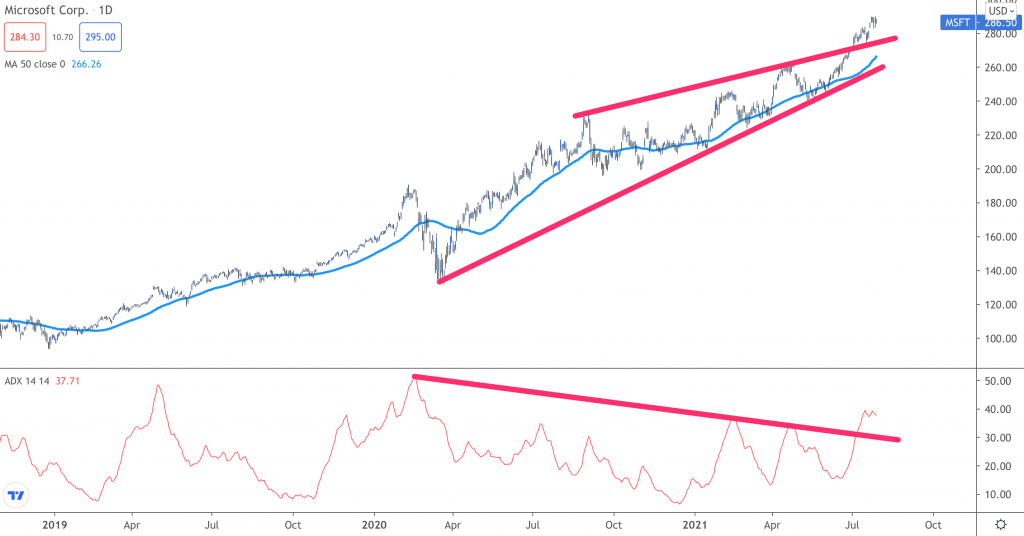 Baruch also noted that as the stock broke out of the wedge pattern, its average directional index broke out as well, pointing to further upside for the stock.
"If this think stays above $275, there's no question about it, [you've] got to be long," Baruch said.
Joule Financial President Quint Tatro likes another megacap tech name.
"I think we have to go with Alphabet," Tatro said. "That report was absolutely outstanding, top and bottom line. Most importantly I think, it was just how far ahead the company was of analysts' expectations."
Tatro added that Alphabet's future growth expectations are being underestimated, and the company's "stellar" balance sheet is reason enough to be bullish on the stock.
RiverPart Funds investment chief Mitch Rubin agreed that Alphabet looks strong now.
"The numbers are crazy strong, across almost every segment of the business, and they're accelerating," Rubin said. "On top of that, you have extraordinary expense control, which I think the market has been looking for for years."
Still, Tatro cautioned that Alphabet—as well as the other megacap names—could be in for a pullback after rising nearly 55% so far this year.
"Maybe these [stocks] pull back a little bit," Tatro said. "That's when you step in and buy and you look to add these to your portfolio."