The tech sector hit new highs this week, but it's not just the mega cap names pushing the group higher. Traders say these 9 under-the-radar tech picks are the ones to consider now.
Tech stocks have been rising higher this week.
The tech-heavy Nasdaq rose to a new record high on Monday and has hovered just below that high in the days since.
The record high this week came as some of the biggest names in the tech sector were reporting second quarter earnings.
Up first, Google-parent Alphabet (NASDAQ: GOOGL), Apple (NASDAQ: AAPL), and Microsoft (NASDAQ: MSFT) all delivered earnings beats after the bell on Tuesday. Then came Facebook (NASDAQ: FB) on Wednesday. The social media giant also posted better-than-expected results, reporting earnings per share of $3.61 on revenue of $29.08 billion versus expectations for earnings per share on $3.03 on revenue of $27.89 billion.
Amazon (NASDAQ: AMZN) then reported Thursday afternoon, posting earnings per share of $15.12—versus estimates for EPS of $12.30—on revenue of $113.08 billion, marking its third $100 billion quarter in a row.
But it's not just the mega cap tech stocks that are pushing the sector higher now.
"From a bottom-up viewpoint, it goes beyond a few mega cap stocks," Oppenheimer head of technical analysis Ari Wald said. "In terms of more top-down macro perspectives, we like the sector because it provides pro-cyclical exposure. We think we're still midcycle bull market and it's a sector that doesn't require rising interest rates and rising commodity prices as do other reflationary cyclical sectors."
Wald in particular has his eye on the semiconductor subsector.
"What is technically attractive for us here is that the XSD S&P Semiconductor SPDR ETF has been really basing for much of the year, it's been in a range, it's been building a base above its 200-day moving average, and for that reason, we think a breakout above $190 resistance is more likely than a breakdown below $170 support, given the uptrend going into this consolidation," Wald said.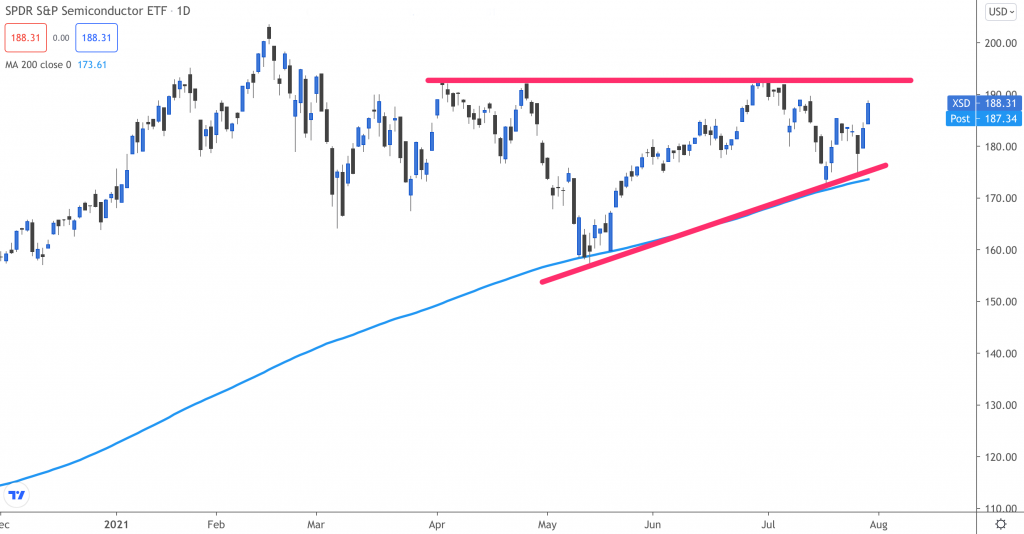 The XSD—which holds stocks including Monolithic Power Systems (NASDAQ: MPWR), Advanced Micro Devices (NASDAQ: AMD), and Marvell Technology (NASDAQ: MRVL)—has gained 3% since Monday, with its top holdings all moving higher.
AMD in particular has surged nearly 10% over the last week, and rising just over 5% on Thursday to a new all-time high following its earnings results where it posted revenue growth of 99% year-over-year.
"Our business performed exceptionally well in the second quarter as revenue and operating margin doubled and profitability more than tripled year-over-year," AMD president and CEO Lisa Su said in the earnings release. "We are growing significantly faster than the market with strong demand across all of our businesses. We now expect our 2021 annual revenue to grow by approximately 60 percent year-over-year driven by strong execution and increased customer preference for our leadership products."
Tocqueville Asset Management portfolio manager John Petrides said he's watching the cybersecurity and fintech subsectors.
"COVID has moved all of our lives more digitally, so the need for more security is only going to continue," Petrides said. "More dollars are to go into that, and in theory, whatever humans can make, humans can break. So you could see trends in cybersecurity going on in perpetuity."
Petrides pointed specifically to the HACK ISE Cybersecurity ETF. The HACK ETF's top holdings include Cloudflare (NYSE: NET), Cisco (NASDAQ: CSCO), and Splunk (NASDAQ: SPLK).
As for fintech, Petrides said he the trend toward cashless payments isn't "slowing down anytime soon." The portfolio manager specifically highlighted the FINX Global X Fintech ETF, which holds names like PayPal (NASDAQ: PYPL), Square (NYSE: SQ), and Intuit (NASDAQ: INTU).