These 2 clean energy stocks look poised to push higher in the near term. Here's why traders say these stocks are buys right now.
Solar stocks are heating up this week.
The TAN Invesco Solar ETF—whose holdings include Enphase Energy (NASDAQ: ENPH), SolarEdge (NASDAQ: SEDG), SunRun (NASDAQ: RUN), First Solar (NASDAQ: FSLR), and Sunnova Energy (NYSE: NOVA)—is up 4.36% over the last week.
The solar sector has struggled this year amid supply-chain headaches for everything from glass to shipping capacity, pushing the TAN ETF down 17% year-to-date.
Higher prices for steel and aluminum, elevated freight costs, and even the global semiconductor shortage have weighed on the industry for much of this year.
"Boiling the bevy of issues down, they all impact gross margins – and gross-margin trends historically have been leading indicators of how the stocks trade," Cowen analyst Jeff Osborne said in May.
But the sector is beginning to look up.
Miller Tabak equity strategist Matt Maley said this week that the TAN ETF and one of its top holdings look poised to continue to see gains.
"You look at both First Solar and the TAN ETF and they both have a lot of upside potential," Maley said, adding that First Solar "made a nice double bottom in March and May, and since then, it made a higher high and now more recently, it made a higher low.
"If we can follow that with another higher high above the $94 level, that's going to be very bullish for the stock and [it's] really going to gain a lot of upside momentum money into the name."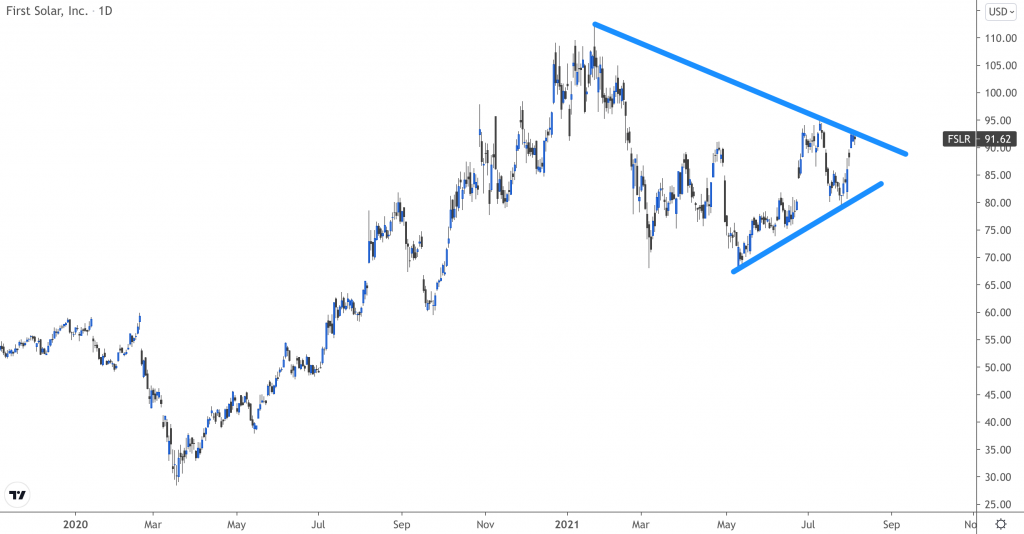 "All of these stocks have a lot of potential here," Maley said of the sector, adding that First Solar could move "a lot higher over the coming days."
New Street Advisors' Delano Saporu has another stock in mind in the clean energy space.
"It's not really a solar play, but I'm definitely looking at Renewable Energy" Group (NASDAQ: REGI), Saporu said.
Renewable Energy Group is a biodiesel production company. The stock jumped 7% on Thursday after the company reported second quarter earnings results.
"Our flexible feedstock capabilities, diverse production fleet, and commercial optimization systems helped us to manage through the volatile market conditions of the second quarter and deliver strong financial results," Cynthia (CJ) Warner, Renewable Energy Group President and CEO, said in the earnings release. "This solid performance, alongside our successful navigation of the many external challenges of the past year, reinforces our optimism about the future."
Saporu added that the stock is "trading at a nice valuation right now, about 31 times earnings, so, definitely not bad, definitely a cheap valuation for the company. And it's actually showing positive pice stock movement, up over 100% in the past year, which I think is a very strong trend for the stock."