Stocks like these 3 have underperformed over the last year, but traders say they are on the cusp of breaking out to new highs. Here's why.
Momentum stocks have been having a good run lately.
The MTUM Momentum Factor iShares Edge ETF is up 1.5% over the last five trading days, and up 4% in the last month after its holdings like Google-parent Alphabet (NASDAQ: GOOGL) and Tesla (NASDAQ: TSLA) got a boost on their recent earnings results.
Alphabet said its advertising revenue rose 69% year-over-year in the second quarter to $61.88 billion, beating estimates for revenue of $56.16 billion. For its part, Tesla reported more than $1 billion in net income for the first time, while also posting earnings per share of $1.45 on revenue of $11.96 billion. Analysts had expected earnings per share of $0.98 on revenue of $11.30 billion.
"It puts them down the path of being the best-in-class automotive company from a margin perspective," Robert W. Baird analyst Ben Kallo said after Tesla's results. "I don't think anyone expected this big of a beat."
But even as the momentum group heads higher, the MTUM ETF is still underperforming so far this year, with the ETF up 13.62% year-to-date compared to the S&P 500's gain of more than 20%.
"Over the prior year, the momentum factor has underperformed," Oppenheimer's Ari Wald said. "We think that is consistent with a new bull market when investors gravitate towards the most beaten-up cyclicals. However, we've done some work and published some studies showing that this is the point in the cycle when momentum reclaims its leadership."
Fairlead Strategies founder Katie Stockton agrees that momentum is just at the start of its comeback.
"You've seen it break out to new highs and that breakout, if you simply assume the same trend will maintain its trajectory, can get it to about $220, and that's very significant upside from here," Stockton said, pointing to the MTUM ETF. "I would argue that it's also associated with growth outperformance of late, so we've seen a lot of sort of high growth stocks break out above short-term resistance levels, and I think that's in part carrying over to this momentum or MTUM ETF, and that should foster additional follow through and additional outperformance."
As momentum moves back into the spotlight, Wald said there's one stock in particular that he has his eye on right now.
"We like Square (NYSE: SQ) here, which is also emerging higher and breaking out to the upside after really mostly range-bound trading for much of 2021," Wald, Oppenheimer's head of technical analysis, said.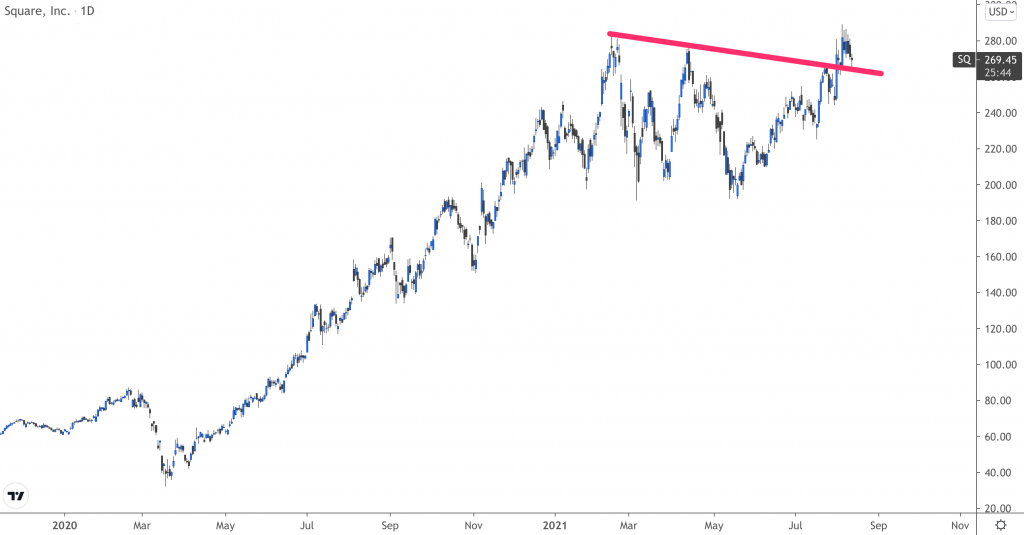 Square shares jumped last week after it announced it was buying Australian fintech Afterpay in an all-stock deal valued at $29 billion, marking its biggest acquisition ever.
"Square and Afterpay have a shared purpose. We built our business to make the financial system more fair, accessible, and inclusive, and Afterpay has built a trusted brand aligned with those principles," CEO Jack Dorsey said in a statement announcing the deal. "Together, we can better connect our Cash App and Seller ecosystems to deliver even more compelling products and services for merchants and consumers, putting the power back in their hands."
Needham analyst Mayank Tandon argued the deal could help Square "make a big splash in the buy now/pay later space while also bolstering its international growth plans. We believe that the Afterpay deal will provide additional opportunities to enhance long-term growth and profitability."