After a busy week for retail earnings, traders identify 3 stocks in the sector that they say are buys now, including one under-the-radar pick.
It has been a busy week for earnings, with Home Depot (NYSE: HD), Kohl's (NYSE: KSS), Lowe's (NYSE: LOW), Macy's (NYSE: M), Target (NYSE: TGT), and Walmart (NYSE: WMT) all reporting by the time of this writing on Thursday afternoon.
Walmart kicked things off before the bell on Tuesday, reporting earnings per share of $1.78 on revenue of $141.05 billion, beating estimates for earnings per share of $1.57 on revenue of $137.17 billion.
"We had another strong quarter in every part of our business," Walmart CEO Doug McMillon said in the earnings release. "We grew market share in U.S. grocery, added thousands of new sellers to our marketplace, rapidly grew advertising businesses around the world, and we're finding innovative ways to commercialize our data and build technology."
Home Depot also delivered an earnings beat on Tuesday, followed by Lowe's on Wednesday along with Target, which reported that sales rose in every merchandise category in the second quarter.
On Thursday, both Macy's and Kohl's posted massive earnings beats. Macy's also announced a new partnership with WHP Global to bring Toys"R"Us outlets to 400 of its department stores in 2022.
But with all these big names reporting, Oppenheimer's Ari Wald said this week there's an under-the-radar retail play he's got his eye on now.
"One standout for us is the automotive retailing sub industry," Wald, the firm's head of technical analysis, said. "We recently added AutoZone (NYSE: AZO)… to our OpCo Trifecta list. Those are stocks that … have both technical, fundamental and portfolio tailwinds behind it."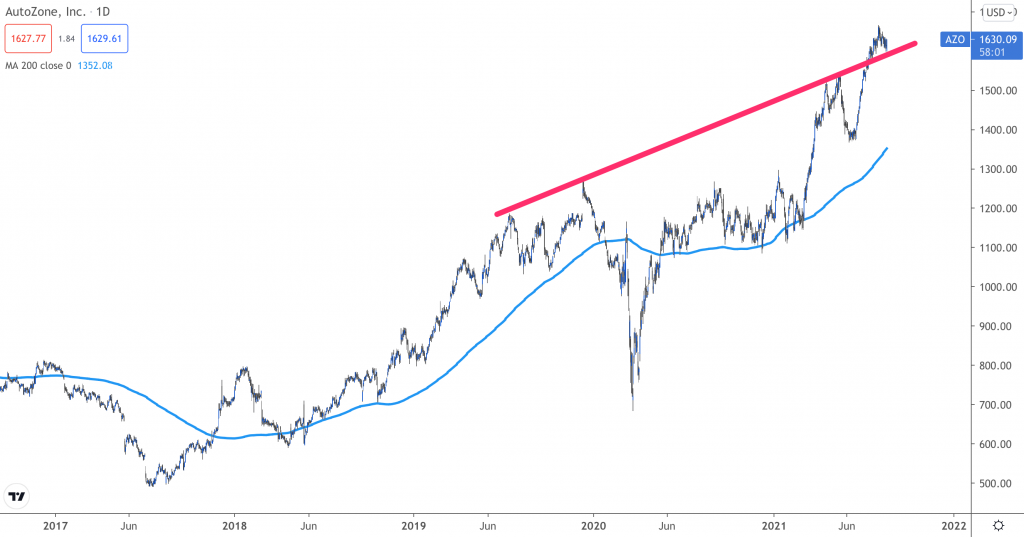 From a technical perspective, the stock broke above resistance this month and has come back down to test the new support this week.
Wald added that, "For AutoZone, on a relative basis the stock was a notable underperformed from 2019. We think it bottomed in the first quarter of this year, and the strength that we've seen since the first quarter, in our view, is reversing the downtrend that had been at play. I think you see the slope for the 200 day curling higher as an argument for that reversal."
Alternatively, Gradient Investments' Michael Binger said Home Depot and Lowe's are two of his favorites in the retail space now.
"We think housing starts and sales, even though they've slowed a little bit, are still very strong," Binger said. "All these millennials who are purchasing home right now, we feel that's a secular tailwind for quite some time. Home Depot and Lowe's are prime beneficiaries of what's going on out there."
"We like these stocks, we own them, and we would buy them right here," Binger added.