Gambling stocks have gotten a big boost over the last week, but traders say there are 2 stocks in the group that look like the best bets at the moment.
Lady luck is here for casino stocks this week as visitor restrictions were eased in the gambling mecca Macao.
Caesars Entertainment (NASDAQ: CZR) shares are up more than 16% over the last 5 days, Las Vegas Sands (NYSE: LVS) is up nearly 14%, MGM Resorts (NYSE: MGM) has gained just under 11%, Penn National Gaming (NASDAQ: PENN) is up a whopping 22%, and Wynn Resorts (NASDAQ: WYNN) has risen almost 12% over the last week.
Still, the group has been volatile over the last 18 months amid closures, travel disruptions, and uneven bookings amid the ongoing COVID-19 pandemic.
But Joule Financial's Quint Tatro says there's one stock in the bunch that's still a buy now even as the pandemic continues wreak havoc.
"The easy play is Las Vegas Sands," Tatro said. "It was March of just this year we were on here speaking about their abrupt shift and their sale of all their Las Vegas properties to basically double down and focus on their Asia exposure. At the time, I think it was a big question mark."
Las Vegas Sands sold its properties in its namesake city this past March for $6.25 billion, with Vici Properties paying $4 billion for the real estate and Apollo Global Management buying the operations for $2.25 billion.
"This company is focused on growth, and we see meaningful opportunities on a variety of fronts," said LVS Chairman and CEO Robert Goldstein in a statement at the time. "Asia remains the backbone of this company and our developments in Macao and Singapore are the center of our attention."
That strategy makes more sense now as China reopens Macao for visitors. Las Vegas Sands' Asia properties accounted for roughly 90% of its revenue last year with significant investments planned to expand in both Macao and Singapore.
"It still has a difficult balance sheet, it's not the greatest balance sheet, but they do have $2 billion now in unrestricted cash that they can put where they see the best opportunity," Tatro added. "If this [rebound] is legit and we start to see a resurgence in the casino space, I think Las Vegas Sands is the play here."
Las Vegas Sands shares are down nearly 31% in the last six months, but looking at the technical picture, the stock appears to have just broken above resistance after two exhaustion gaps higher following a months-long downtrend.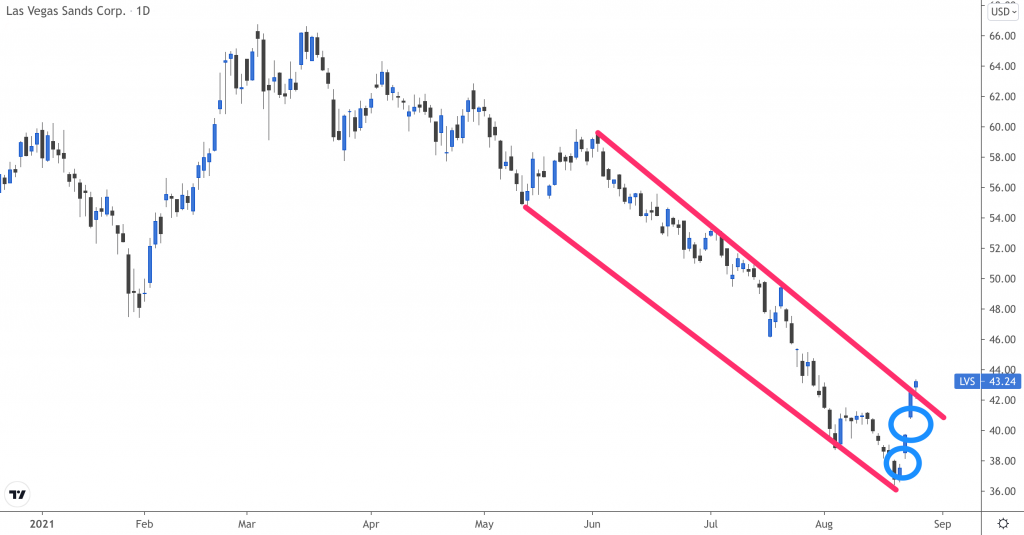 In the wise words of Piper Sandler's Craig Johnson, Las Vegas Sands at this point is "so bad it could be actually good."
MKM Partners' JC O'Hara is looking beyond casino stocks now and instead has his eye on DraftKings (NASDAQ: DKNG), a gambling stock that he believes has stabilized after a big pullback this past spring.
After jumping above $70 in March, the stock dropped 43% by mid-May before the price action stabilized into summer.
DraftKings "is reestablishing itself in an uptrend, breaking back above the 150-day moving average," O'Hara, the firm's chief market technician, said. "So rather than trying to bottom pick some of these names and make calls on economic data, let's look where the price action is positive and that's DraftKings."
Pointing to the DraftKings' chart, O'Hara is looking to the March highs above $74 as a possible upside target price with a band of support at around the $50 level.