For the last few years, the Auto industry has been an interesting pocket of the stock market to pay attention to. Between trade tensions between the U.S. and its largest trading partners before 2020 to the global COVID pandemic that shuttered economic activity and collapsed demand for most of that year.
2021 saw a number of Auto companies show significant improvements in demand, and therefore in their bottom lines, which helped a lot of those stocks see impressive increases in price of 100% or more. 2022, however has set a bit of a different tone.
War in Ukraine, inflation, and rising interest rates have kept the market at or near bear market territory since early in the year, with little evidence that conditions will improve in the near future. For automakers, the Russia-Ukraine represents a significant expansion of risk, as many of those companies have critical operations, either in Ukraine or Russia to make their products available in that part of the world. In many of those cases, production was suspended, either because of the risk the conflict will impact those facilities directly, or have followed the lead of their home countries who moved quickly to impose restrictive economic sanctions on Russia.
For some investors, automotive stocks may seem like a risky place to put their money in the current geopolitical and economic climate; and I think it's true that if you're willing to make an investment in this space, you have to be willing to accept that the prices of most of the stocks in the industry are likely to remain under pressure. If that is true for the entire industry, with little chance of relief in sight in the near future, why not stay away from the industry altogether?
To be an effective value investor, I've found that you have to be willing to move against the grain of the broad market. To me, that means that when everybody else says "stay away" from a certain industry the smarter thing is to actually go ahead and take a long look. If you want to find some of the best bargains in the marketplace at any given time, you're going to be more likely to find them in deeply discounted stocks in depressed industries. That's one of the biggest reasons that current market conditions led me to take a deep dive for today's highlight on Ford Motor Company (F).
Ford is a company that has held my interest for some time; they were the only U.S. automaker that didn't participate in the federal bailout of the industry in 2008, choosing instead to stand or fall on their own merits. The onset of the global pandemic forced Ford, along with most of the industry to suspend its dividend payments, but the company also set itself apart from its industry brethren by being the first to reinstate their dividend payout in November of last year. Despite the challenges associated with the last two years, the company also boasts a strong balance sheet along with strengthening free cash flow.
Those are the positives. Among the risk elements I see includes exposure in Eastern Europe, and Russia most particularly; At the beginning of 2022, the company operated three assembly plants in Russia as part of a joint venture with Russian Sollers. While other automakers with significant operations, like Renault and Volkswagen have halted production for the time being, U.S. competitors like GM have far less exposure to the region. GM, for example ended its own production operations in Russia seven years ago and ended a joint venture in the region in 2019. Ford suspended its joint venture in Russia in March. The stock fell from a January 2022 high at around $26 to a low in July at around $11, but has picked up new bullish momentum since then to push the stock to around $16 as of this writing. Does the stock's current momentum, considered against the company's fundamental strength, mean that it could offer an interesting value-driven buying opportunity right now? Let's find out.
Fundamental and Value Profile
Ford Motor Company is a global automotive and mobility company. The Company's business includes designing, manufacturing, marketing, and servicing a full line of Ford cars, trucks, and sport utility vehicles (SUVs), as well as Lincoln luxury vehicles. The Company operates in four segments: Automotive, Financial Services, Ford Smart Mobility LLC, and Central Treasury Operations. The Automotive segment primarily includes the sale of Ford and Lincoln brand vehicles, service parts, and accessories across the world. The Financial Services segment primarily includes its vehicle-related financing and leasing activities at Ford Motor Credit Company LLC. Ford Smart Mobility LLC is a subsidiary formed to design, build, grow, and invest in emerging mobility services. The Central Treasury Operations segment is primarily engaged in decision making for investments, risk management activities, and providing financing for the Automotive segment. F's current market cap is $63.5 billion.
Earnings and Sales Growth: Over the last twelve months, earnings increased by more than 423% while sales grew almost 50.25%. In the last quarter, earnings were almost 79% higher while sales increased by about 16.6%. That earnings trend is countered by its operating profile, where Net Income declined from 7.88% over the last twelve months to 1.66% in the last quarter.
Free Cash Flow: Ford's free cash flow is quite healthy, at more than $5.9 billion over the last twelve months. That translates to a Free Cash Flow Yield of 9.29%; however it should also be noted that Free Cash Flow has declined over the past twelve months, from $10.8 billion a year ago, but did improve from $3.9 billion over the quarter prior.
Debt to Equity: Ford has a debt/equity ratio of 1.92. High debt/equity ratios aren't unusual for automotive stocks, however it should be noted that Ford's debt/equity is the highest among U.S. automakers. It is also worth pointing out that the lion's share of their $85 billion in long-term debt is attributable to the Ford Credit financing arm of their business; if you subtract this number, their total debt is only about $20.4 billion, while their balance also shows $36.7 billion in cash and liquid assets.
Dividend: Ford pays an annual dividend of $.60 per share, which translates to a yield of 3.72% per year. Management increased the dividend from $.40 per share earlier this year, which is a sign of confidence in their overall approach.
Price/Book Ratio: there are a lot of ways to measure how much a stock should be worth; but I like to work with a combination of Price/Book and Price/Cash Flow analysis. Together, these measurements provide a long-term, fair value target around $11 per share. That means that Ford is overvalued by about -33% from its current price, with a useful discount at around $8.50 per share.
Technical Profile
Here's a look at the stock's latest technical chart.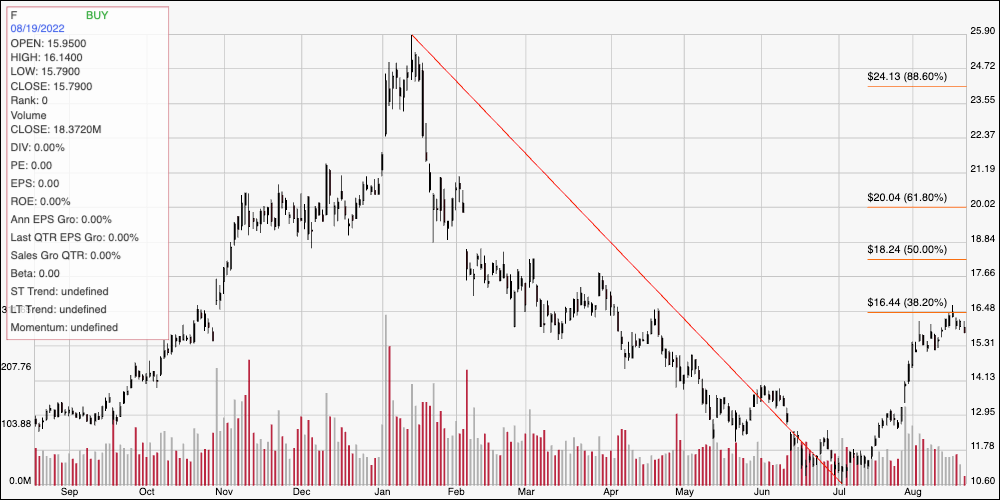 Current Price Action/Trends and Pivots: The red diagonal line measures the length of the stock's downward trend from its January peak at $26 to its low, reached in July around $10.50 per share; it also informs the Fibonacci trend retracement lines shown on the right side of the chart. The stock has picked up a significant amount of bullish momentum since then, driving to the immediate resistance at around $16.50 where the 38.2% retracement line sits, with current support expected at around $15 based on the stock's most recent pivot lows. A push above $16.50 could see the stock push to a little above $18, where the 50% retracement line waits to provide next resistance, while a drop below $15 should find next support at around $14 per share.
Near-term Keys: The strength of the stock's current bullish momentum suggests the stock could be in position to reverse its longer downward trend, however the stock would need to push above $16.50 to confirm the latest bullish momentum as a legitimate, new bullish trend. That would also provide a good signal for short-term traders to consider buying the stock or working with call options, with $18 providing a practical exit target on a bullish trade. A drop below $15 has limited downside to next support, however a push below $14 could mark a good signal to consider shorting the stock or buying put options, with $11 offering a practical exit target on a bearish trade. Despite its underlying fundamental strengths, however, F doesn't offer a useful value proposition right now.