These 3 stocks boast solid dividend yields, and according to one technical analyst, all 3 are in for upside ahead.
The Dow has hit back-to-back record highs this week on Monday and then again on Thursday on positive news on the trade war front. The S&P 500 and Nasdaq also hit all-time highs this week.
---
Hey, did you know if you really want to retire early, this free training lays it all out for you! Check it out here.

---
But even as the market is flying high, there are still a few opportunities to be had that boast an attractive yield and trade at a relative bargain.
According to CNBC's Jim Cramer, Dow Chemical (NYSE: DOW), Verizon (NYSE: VZ), and Walgreens Boots Alliance (NASDAQ: WBA) all fit the bill.
Cramer, referencing technical analysis from Dan Fitzpatrick, said these companies are good bets now as the Dow is likely to continue to push higher.
"And when you get this kind of breakout, Fitzpatrick says you want to buy as early in the process as possible," Cramer said.
All three of these stocks have moved higher over the last week, with Dow up 10.5%, Verizon up 0.1%, and Walgreens up 7.1% over the last week.
Fitzpatrick says the Dow has moved out of a symmetrical triangle pattern it has been stuck in since its highs reached in July. 
The Dow has been "making a series of lower highs and higher lows," Cramer said. "This is called a classic continuation pattern, meaning that the Dow was merely resting before resuming its long march higher."
Fitzpatrick sees the Dow reaching 29,000. And while Cramer says the technician's forecast is "extremely bullish," he said "it makes sense to me now that we've taken the recession fears off the table and the Fed is very much our friend."
And as the Dow continues to head higher, Fitzpatrick says Dow Chemical, Verizon, and Walgreens could help lead it toward that 29,000 level.
Right now, dividend yields exceed those of many bond, making dividend yielders increasingly attractive to investors.
Goldman Sachs' David Kostin wrote in a note that investors are likely too pessimistic about the ability of companies to raise dividends and that the dividend swap market was pricing in an average annual dividend yield growth rate of 2.7% through 2023.
But Kostin expects the S&P 500's per share dividend growth to be 7% in 2019, 6% in 2020, and an average of 5% growth through 2023.
"Dividend growth pessimism is also evident in the valuation of high dividend yield stocks, which are trading at an extreme discount to stocks with low dividend yields," Kostin said in the note.
According to Fitzpatrick, Walgreens—which carries a 3.08% yield—has been trading in a tight range for the past seven months while its 50-day moving average is trending higher. But while it's 200-day moving average hasn't yet followed suit, the technician says that will change soon.
Over the next few weeks, Cramer said, Fitzpatrick expects a "bullish crossover" occurring in which the "short-term 50-day moving average goes above the longer-term 200. That is a classic sign that the stock is on the mend."
Fitzpatrick anticipates Walgreens shares will rise to around $70 – 19% higher than the current price. And that "golden cross" Fitzpatrick sees makes the stock a solid Buy.
For Dow Chemical, Cramer said Fitzpatrick's analysis shows that the stock reached a bottom around $40 back in late August and institutional money managers have been increasingly buying the stock since then.
"You can tell because it tends to rally on strong volume and decline on weak volume," Cramer said.
The stock is currently at $55.80, and Fitzpatrick says it's a bit "overextended" right now. However, Fitzpatrick says Dow Chemical is worth buying on any weakness for its 5.17% yield.
Dow Chemical, which was spun off from DowDuPont in April, "is now a juggernaut," according to Cramer. "And it's a juggernaut because of the possibility that business is going to get better in this country."
And as for Verizon, with its 4.1% yield, Cramer says a "flat triangle pattern" has formed on its chart after the stock has traded in a tight range between the low $60s and low $50s with a series of higher lows over the past year.
But Cramer says there's also a smaller flat triangle forming at the moment, "with the floor of the formation at roughly $59."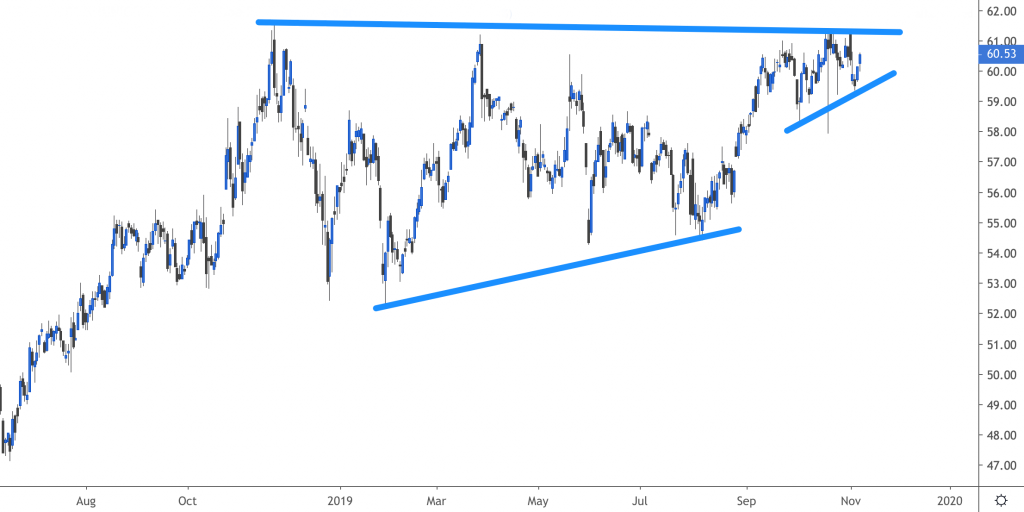 "This is what's known as a fractal: where you have a smaller version of a pattern tucked inside a larger version of the pattern," Cramer said. "At [Fitzpatrick] says fractal formations can be very powerful if you trade them correctly."
Fitzpatrick says the right thing to do now is wait until the stock breaks above $61, which it is nearing. Verizon shares closed at $60.53 on Thursday.
But when it does break above $61, "that's when you'll know that the leg is really going to be starting," Cramer said. "From $61, he expects it will be smooth sailing to $70 based on the length and depth of the consolidation pattern that Verizon is currently stuck in."
By the way, if you liked this article, you'll LOVE this Meaty free training I just published on the top 3 questions and challenges every investor faces AND how to overcome them. It's titled "10k into $2.4 Million in 18 months" and you can grab it for free here